Cottonwood Elementary School is one of six elementary schools in the West Valley School District. We serve students in grades K-5. within Cottonwood Elementary's school boundary. Students outside of the school boundary must contact the District Office to request permission to attend an out of-boundary school. Decisions to accept students living in another school or district boundary are based on capacity at each grade level on an annual basis.
1041 S 96th Avenue.
Yakima, WA 98908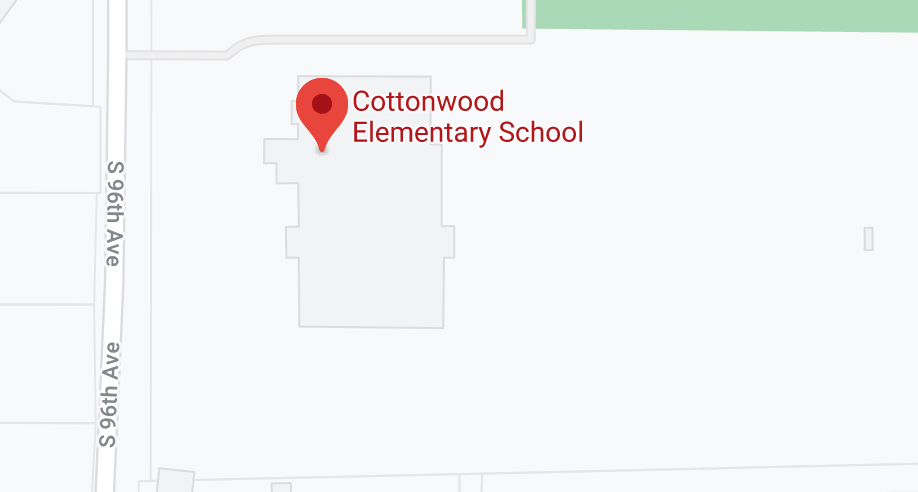 About Our School
Attendance Policies
When children are late, a parent or guardian must check them in at the office.
According to State guidelines, students arriving between 8:55 am and 9:05 am are tardy. Students who arrive after 9:05 am are considered absent for the first period of school. An absence for more than one hour a day will be counted as a half-day absence. When a student's tardiness becomes frequent or disruptive, the student will be referred to the principal or a counselor for counseling, parent conferencing, and/or disciplinary action.
Parents or guardians must submit a signed excuse statement within two days of a student absence or the absence will be marked unexcused. After two unexcused absences in one month, a parent-student-principal conference will be held. Washington attendance laws require the school to notify the juvenile courts after a child accumulates seven (7) unexcused absences in one month or ten (10) absences in one year.
If your student will be absent, please let the office know by 9:00 a.m.
The following are valid excuses for absences and tardiness. Assignments and/or activities not completed due to an excused absence or tardiness may be made up in a manner provided by the teacher:
School-approved activity: A staff member must authorize this absence, and you must notify the teacher before the absence.
Illness, health condition, family emergency, or religious purposes: Parent's must notify the school office by 9:00 a.m. and send a signed note of explanation with the student on his/her return to school.
Disciplinary actions or short-term suspension: As required by law, students who are removed from a class or classes as a disciplinary measure have the right to make up assignments or exams missed during the time they were denied entry to the classroom.
Pre-approved absences: Must be pre-approved by the principal and the parent and not impede on the student's educational progress.
For more information, check out our Student Handbook.
Report Cards
Your child's report card scores reflect your child's progress toward meeting state and district learning standards. Progress is determined through teacher observation, teacher-student discussions, paper-pencil tests, and your student's performance on tasks and projects assigned by the teacher. Below is a key to the grading system:
4 - Above Standard: superior performance
3 - Meets Standard: solid performance
2 - Working Toward Standard: partial accomplishment
1 - Below Standard: little progress demonstrated
0 - No Demonstration: no demonstrated progress
- Not evaluated at this time
Read more about our grading and performance measures in our Student Handbook.
Visitors
We require all visitors and volunteers to check in with the office and wear a visitor badge at all times. Visitors are welcome to join a student for lunch. Please call the office before 9:30 to order lunch. Visitors may not attend classes.
Students are not allowed to leave school grounds without prior arrangement through the office. You must check in at the office when picking up a child for an appointment. We will call the student from the classroom to meet you in the office. We will not release a child to any person other than those identified as an emergency contacts on the child's Student Enrollment Form on file in the school office.
Volunteers
All potential volunteers must fill out the volunteer application form. All volunteers will be subjected to a criminal background check through the Washington State Patrol and must be approved before volunteering. Forms may take 7-10 days to process. Volunteers must sign in at the office and wear a badge at all times while on campus.